Offering: Every Sunday GA Church collects an offering during church services. If you would like to donate then just place your givings in the offering plate as it passes by, or if you would like to mail in an offering you can mail it to our
address which is located on the contact us page.
Or you can donate through the Givelify App by clicking the Donate Now tab on the main menu.
GA also now has Venmo, just scan the QR code below to donate! Thank you for your Support.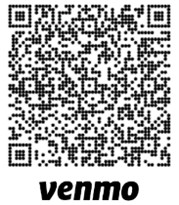 Scan to Give Thru Venmo
GA Foundation: The foundation was formed to help out with large projects at GA. Recently it helped pay for the Women's Bathroom renovation, Organ Maintenance and other projects. The GA Foundation functions solely on donations, so when you are planning your Estate or trying to think of an organization for a Memorial donation PLEASE keep the GA Church Foundation in mind. There are fliers on the wall in the Narthex if you would like more information. Thank You!