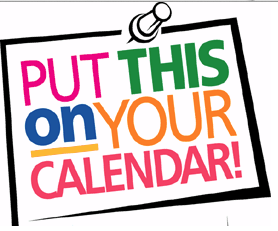 Vacation Bible School: Red Willow will be leading Bible School at GA this summer July 21-23 for kids who will be entering 1st - 6th grade in the fall. There is no cost for the camp, but a registration form does need to be filled out for each child and turned into the office by June 30th. Forms are located on the table in the Narthex. Please turn completed forms into Jaime or Carrili. If you have any questions please feel free to ask.
Live Online Church Services: If you would like to watch church service live from home you can do so on www.youtube.com just search for GA Lutheran Church on YouTube, or click the link of the page of the church website that has the bulletins. Church service is also still being broadcast on 89.9FM if you would like to listen from the parking lot. The bulletin for each Sunday will be posted on the church website www.galutheranchurch.org if you would like to view it while you listen to the service. If you miss the live service a recording will also be posted on the church website which you can view at anytime. Any questions just ask. Thank you and spread the word.
Return to Indoor Services: Members of GA Church, we have resumed indoor service 9:30am start time.
The Following Guidelines will need to be followed to attend service:
1. Masks are RECOMMENDED at all times when inside the church
2. Seating will be every other row, and 6 feet between families, if there are 2 families in a row
3. Please use the provided hand sanitizer when you enter the church
4. Please sit with just your household family
6. Hymnals will not be used, all needed information for service will be printed for you
7. Holy communion will be served in the pew with single serve cups
8. Offering plate will be in the back of the sanctuary, please drop it off on your way in
9. No Fellowship/Coffee hour
10. No sharing of the peace
11. No congregating before or after service
12. Hand sanitizer will be available
13. Please maintain 6 feet distancing when possible
14. Please do not come to church If you are not feeling well
Thank you for your cooperation in these uncharted times at GA Church.

Drive-Thru Update: The next phase of the drive thru has started!! Exciting times. The hope of the church is that we will not need to take out another loan for this next phase. With the giving we have already received for the first phase (cement work) and donations from church groups, we will still need around $29,000.00 to finish this next phase (Roof). Due to COVID fundraising is not an easy option at this time. So, we are reaching out to you, the members of GA, and just asking you to make donations for this next phase. If you are wanting to donate please note on your donation that it is for the drive-thru project and mail them in or drop them in the offering plate. Thank you in advance for all your support of GA Church.
Drive Thru – Due to scheduling, the brick work around the canopy columns will be installed in August or September. After the brick work is done the rest of the siding and rain gutters will be installed. The electricity will be connected, and a dimmer switch will be installed to control the canopy lights. There will also be electric receptacles on 2 of the columns.
Ice Dam Project – Phase One which made it possible for cold air to enter the attic is completed. Phase 2 which insulates the ductwork is on hold. Kent Johnson, Darrel Salberg and myself did a trial run and at that time, it was determined it was too hot in the attic to get a crew of volunteers involved. This will be done later this fall when the temperatures are cooler. Phase 3 which adds more blown in insulation will be determined after the air ducts are insulated. Thank you, Kent and Darrel for your suggestions and help. ~Dennis Dahl~
WE WILL UPDATE YOU WEEKLY
AS WE FOLLOW THE COVID-19 REGULATIONS FROM THE CDC